This is the BBC paperwork.
It includes some forms that need to be submitted with the project and a FAQ. It also includes the technical specifications for the BBC Big Screen.
bigscreenleicester@bbc.co.uk
=============================================
Be part of Leicester's Big Screen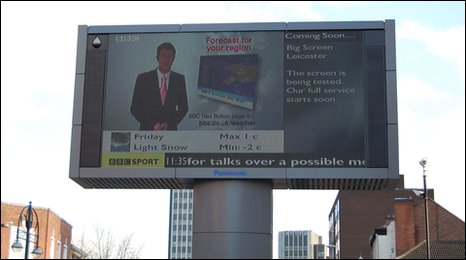 The Big Screen shows live events on Humberstone Gate and much more
With its interactive games and ability to relay live events, Leicester's Big Screen is much more than just a big telly. Why not make sure you're on it?
The Leicester Big Screen, on Humberstone Gate, is gearing up for a year of events and screenings.
From theatre to sporting events, the screen is providing a range of entertainment for all ages.
The screen offers round-the-clock news, information and entertainment on a large digital video display.
WHAT'S ON THE BIG SCREEN




From 11:00 on 7 and 8 May get involved with Dig In and learn how you can grow your own grub

Live opera: On 13 July, see a live video stream of Simon Boccanegra with Placido Domingo from the Royal Opera House
It is connected to the BBC's global broadcast network and delivers a schedule of news, sport, music, documentaries and much more.
What is the Big Screen?
Think of it as a city centre venue rather than a big screen. The screen hosts live relays from events in the vicinity, interactive games, short films by local film makers, artistic pieces and videos from local bands, as well as the best of what the BBC has to offer.
This includes sporting fixtures such as Wimbledon and Olympic events, music performances and daily news, sport and weather reports. Each summer we also relay an opera or ballet live from the Royal Opera House in Covent Garden.
The screen is one of a growing number of Big Screens across the UK and is a showcase for community projects, film makers, bands and artists from across the region and beyond.
There is also a city events listing where you can publicise your community event for free.
As well as film play out, the screen has a 'plug and play' point. This means you can plug a camera in to the bottom and relay live footage from events taking place in front of it.
There is a camera on top of the screen. This is often used for interactive games and artistic applications which make use of motion. We welcome pitches for creative ideas and artistic projects which engage the public and enhance the space.
If you're an artist, or pretty nifty when it comes to developing software, why not showcase what you can do on the screen? The screen and all the kit is free to use and experiment with. It has a range of sound settings including silent.
The screen has been made possible by a partnership between the BBC, Leicester Ciity Council and the London Organising Committee of the Olympic Games. As an official Olympic Live Site we can look forward to city centre events from the Olympics and the Cultural Olympiad.
How can I get my film or event on the screen?
The Screen Manager decides what goes on the screen and it all has to be in line with BBC editorial guidelines, suitable for people of all ages with any music copyright cleared so get in touch if you've got something to show.
BIG SCREEN INFORMATION

Most computers will open these documents automatically, but you may need Adobe Reader
This might be an interactive application, photographs, film, music video, community information or event you'd like to tell other people about… you get the idea. If in doubt ask!
You could be a school or college, local film maker, artist, festival organiser, community or arts organisation.
The screen doesn't produce any of it's own content so we're not able to make films on behalf of organisations. There's no deadline for submissions and the screen is a hungry beast so we're always on the lookout for content to feed it!
What should I consider if I want to get involved?
Remember the screen is more than a big notice board - so if you're planning an event on Humberstone Gate try to think creatively about how you could involve the screen. If you're stuck for ideas - get in touch and we'll talk it over.
We do need plenty of time to get your information or work onto the screen. At least three weeks notice to have your event featured in the events listing, at least a month for films. We can't guarantee to show everything but we will take a look.
If you'd like to use the screen for a live event then get in touch as soon as possible as there's lots to discuss! If you'd like to organise a live relay then you will have to provide your own camera and operator.
The same BBC rules govern the Big Screen as all other BBC output be it television, radio, on line or live events. This means we don't carry any commercial advertising.
For more details on what this means to you, as well as how to contribute, click on the information below...
Want to advertise your event?
For more information, send an email to bigscreenleicester@bbc.co.uk 
Make sure you tell us the following details...
• Your Name/Organisation
• Event Details (the more you can tell us the better)
• Time and Date of the Event (the start and finishing times if appropriate)
• Contact Number
• E-mail address.

Be part of Leicester's Big Screen