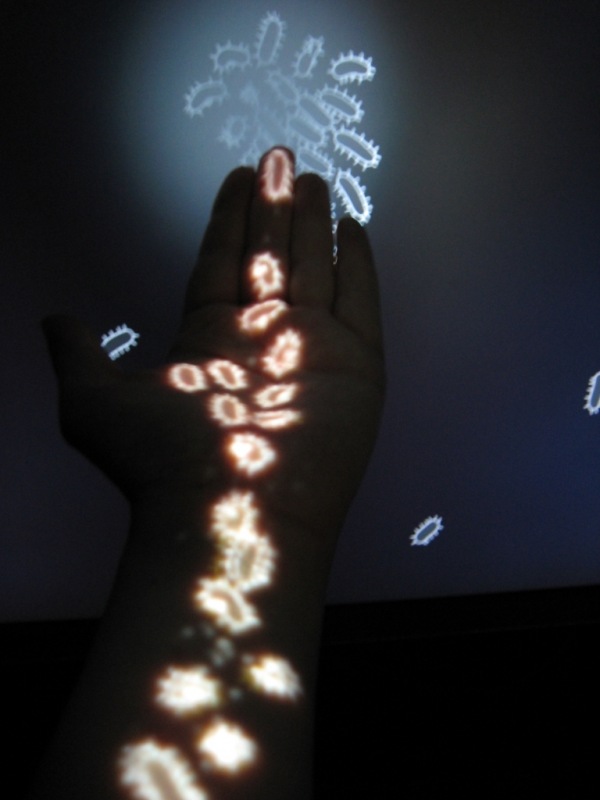 "This interactive installation imagines that the worlds inside our digital devices can move into the physical world. Small bugs made of light crawl out of a computer screen onto the human bodies that make contact with them, often surprising their audience as they try to abandon a virtual existence. The magic of the illusion takes shape as the audience lets them explore their bodies, crawling from one person to the next in a strangely intimate way.
As digital technologies have become embedded in everyday life, the line between the virtual and real is increasingly blurred. Delicate Boundaries playfully explores our expectations and understanding of interfaces and interactivity.
Awarded first prize by Share Festival and a special mention from the Vida Art and Artificial Life awards.
Created with the support of Medialab-Prado, Eyebeam Art and Technology Center, and Hangar.
Credits: Zachary Lieberman, Damian Stewart, Blanca Rego, Jordi Puig, Gonzalo Posada"
"Chris Sugrue is an artist and programmer whose works experiment with the magical and illusory possibilities of digital technology. She creates fictional worlds that have taken the form of interactive installations, audio-visual performances and algorithmic animations. Her works have explored topics in artificial life, computer vision, electromagnetism, optical effects, and augmented video. She has exhibited internationally in such festivals and galleries as Ars Electronica, Sónar Festival, Pixel Gallery, Medialab-Prado, Matadero Madrid, and La Noche En Blanco Madrid."

Chris Sugrue